Starting a new document
Choose File > New
This opens a sub menu with several pre-defined but blank template documents to start from.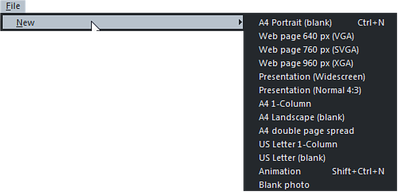 Primarily, there are five different types of documents in the Xara titles:
Icon

Document type

Menu option

Use for..

Print

A4 1-Column

A4 Portrait (blank)

A4 Landscape (blank)

A4 Double page spread

US Letter 1-Column

US Letter (blank)

Creating drawings, DTP and text documents (single or multi-page) that you want to print or perhaps export as PDF documents.

Photo & Graphic Designer and Designer Pro

Website

760 pix web page (SVGA)

640 pix web page (VGA)

960 pix web page (XGA)

Creating complete websites or web graphics.

Web Designer and Designer Pro

Presentation

Presentation (widescreen / normal 4:3)

Creating web presentations.

Web Designer and Designer Pro

Animation

Animation

Creating animations such as a Flash animation or animated GIF.

All titles

Photo

Blank photo

If you load a JPEG photo into Xara Designer Pro+ it's loaded as a photo document. Photo documents are used where the purpose of the document is only to edit or produce a photo.

All titles
Choosing the first entry A4 1-Column creates a document based on the Designer Pro / Photo & Graphic Designer default template. The default for Web Designer is 760 pix.
Clicking the New button on the Standard control bar (shortcut "Ctrl + N") also creates a document based on the default template. 

Tip: Ctrl + Shift + N opens a new animation document.
When your new document opens, its tab is added to the top of the workspace with an icon showing which type of document it is, as shown in the example below.

You can save your own templates with the "File" > "Save Template" command – see Changing the template document for details.